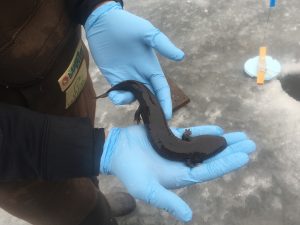 Common mudpuppy salamanders (Necturus maculosus) were listed as an Illinois state threatened species in 2010 and populations in the Great Lakes region may be at risk of extirpation (Mankowski 2012). Mudpuppies have a wide distribution across east-central North America but their seasonal behavior, population and home range estimates, physiology, and effective capture techniques are not well understood. As anthropogenic activities continue to disturb aquatic habitats, determining the seasonal habitats and migration patterns will lead to improved conservation and management of mudpuppy populations. Our study site at Wolf Lake within Chicago city limits provides researchers the opportunity to share scientific research with the public in an urban setting.
This project has collaborated with the Shedd Aquarium since 2015, and the Shedd has incorporated mudpuppy field work and outreach into their Great Lakes Action Days (GLAD) program, which engages individuals of all ages and scientific background in ecology research. This collaboration began with masters' student Alicia Beattie who studied diets,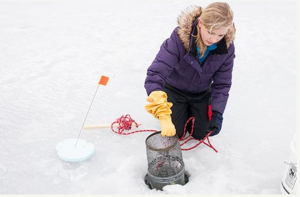 population structure, and seasonal activity of mudpuppies at Wolf Lake. Alicia had greatest capture success in the coldest months of the year, captured larger mudpuppies in traps and captured smaller mudpuppies by rock flipping. Larger mudpuppies were found to eat larger prey and smaller mudpuppies were found to eat smaller prey, suggesting a gape limited, generalist diet.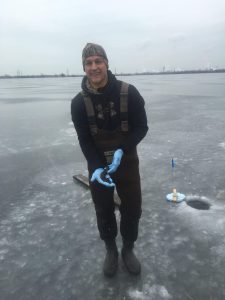 Doctoral student Jared Bilak joined the study in 2017 and will continue studying the mudpuppy population at Wolf Lake. Combined with Alicia's findings, we hope to estimate the survival rate, growth rate, and population size at Wolf Lake. To determine seasonal movements and habitat use, we have implanted 20 mudpuppies with radio transmitters and are tracking them throughout the spring and into the fall. Our findings will help determine which habitats and the movements of mudpuppies throughout the warmest months of the year. We will capture mudpuppies using a novel open water trapping design at these locations to compare winter and summer diets. Our findings will be beneficial to the future success of conservation and preservation of this species at Wolf Lake and across their range as human activities continue to encroach on aquatic habitats. Our long-ter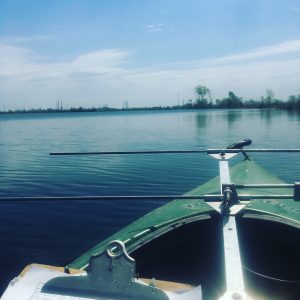 m goals are to examine the effects of increased temperature and varying oxygen levels on mudpuppy physiology. We hope with this research and our public involvement, a greater understanding and appreciation of this species can be achieved leading to increased conservation efforts.
See Alicia's paper for more information: Beattie, A. M., M. R. Whiles, P. W. Willink. In Press. Diets, population structure, and seasonal activity patterns of mudpuppies (Necturus maculosus) in an urban, Great Lakes coastal habitat. Journal of Great Lakes Research. http://www.sciencedirect.com/science/article/pii/S0380133016302106