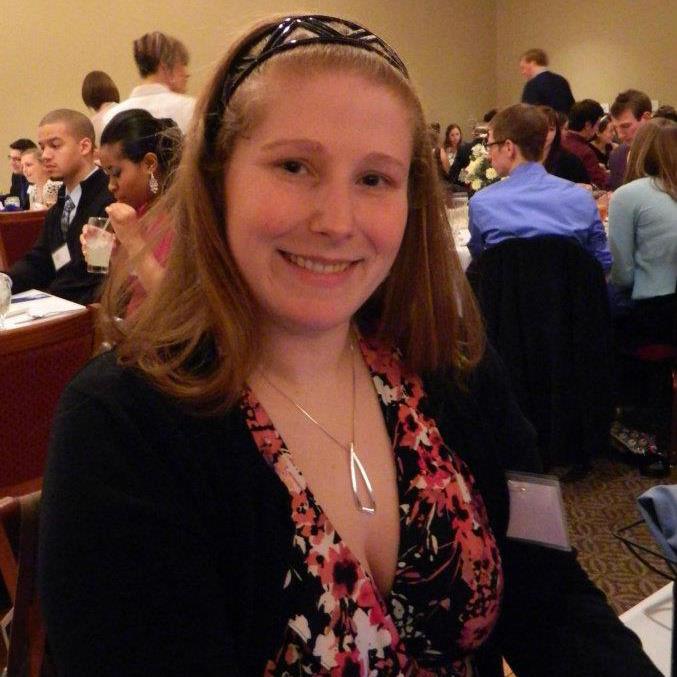 Jessica Fulgoni
Jessica completed her Ph.D. in October of 2018, with a defense titling, Impacts of Restoration on Ecosystem Processes in Midwestern Streams. She is currently working in Cape Girardeau Missouri as a water quality specialist for Big Rivers and Wetlands Field Station with the Missouri Department of Conservation.

Sophia Bonjour
Sophia defended her master's thesis in December 2017 on influence of fishes on the structure and function of permanent water refugia in intermittent prairie stream networks on the Konza Prairie in northeastern Kansas. She was also involved with research on the Cache River in southern Illinois looking at drifting macroinvertebrate communities of the upper and lower Cache River and fish community structure and diet differences between weir and non-weir sites. She is currently a research specialist at Arizona State University in Nancy Grimm's lab.
---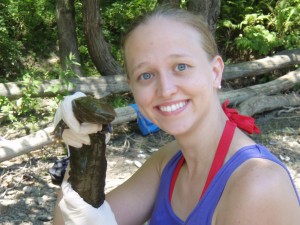 Kelley Fritz

Kelley completed her Ph.D. in zoology and as part of the NSF IGERT Program in Watershed Science & Policy. Her research focused on resource subsidies across the aquatic-terrestrial boundaries of temporary ponds. She is currently teaching anatomy and physiology courses at Matanuska-Susitna College.
---

Alicia Beattie
Alicia completed her Master's degree in August 2016. In partnership with the Shedd Aquarium, she studied diets, population structure, and seasonal activity of mudpuppies (Necturus maculosus) in an urban, Chicago lake. She is currently a Project Manager for Chagrin River Watershed Partners (CRWP) in northeast Ohio.
---

Karen Baumann
Karen completed her Master's degree in spring 2016. She studied the responses of macroinvertebrate communities to flooding and drought in the Cache River in southern Illinois, which has been effectively divided for several decades into two sub-watersheds that experience drastically different flow regimes. She is currently working as a research technician at Murray State University Watershed Studies Institute, and is investigating ecological structure and function of restored riparian wetlands in western Kentucky. She is also working as an adjunct biology instructor at West Kentucky Community and Technical College. Her primary interests aside from stream ecology are environmental education, community engagement with scientific research, and environmental justice.
---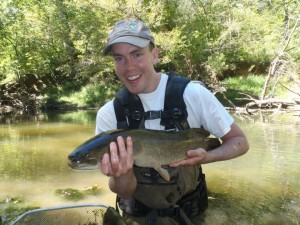 Micah Bennett
Micah completed his Ph.D. in zoology and as part of the NSF IGERT Program in Watershed Science & Policy. His research focused on the impacts of flow variability on fish life history strategies and its implications for populations, communities, and ecosystems. He is currently a postdoctoral research with EPA Office of Research and Development in Arlington, Virginia.
---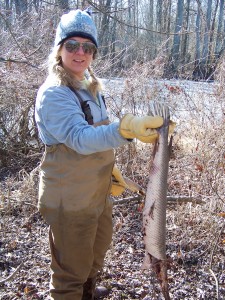 Heidi Rantala
Heidi completed her postdoctoral work with the Whiles lab in 2015. Heidi was a skilled researcher and dynamic presence in the lab, working on many projects, including several related to the Cache River. She finished up her time in the Whiles Lab working on the SCALER project. She now works for the Minnesota Department of Natural Resources.
---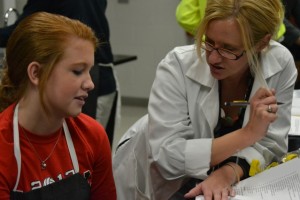 Natalie Mountjoy
Natalie completed her Ph.D. in June 2014. Her work focused on evaluating the capacity of community-based natural resource management (CBNRM) initiatives to meet their conservation goals. She specifically focused on groups across Illinois, linking group capacity to quality of natural resource planning and resulting trends in the ecological integrity of managed areas. Natalie is currently Director of the Life Science Academy, Owensboro Community and Technical College.
---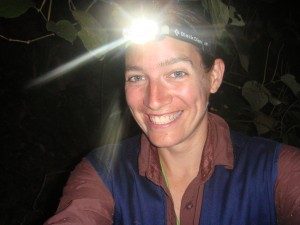 Amanda Rugenski
Amanda completed her PhD in Zoology in 2013. She worked on the Tropical Amphibian Decline in Streams project (TADS), and her research is part of a larger effort examining the ecological consequences of amphibian extinctions by quantifying changes in stream ecosystem structure and function associated with the loss of these consumers. Specifically, she examined how tadpoles mediate nutrient cycling using ecological stoichiometry as a framework in Panamanian highland streams pre- and post- amphibian decline.  Currently, Amanda is a postdoctoral researcher at Cornell University.
---

Karen Jackson
 Karen completed her Master's degree in 2013 with Dr. Whiles. Her research examined the ecological integrity of prairie streams as influenced by patch-burn grazing and riparian protection at the Osage Prairie Conservation Area in Missouri. Her study has aided in our understanding of the effects of prescribed burns and unrestricted cattle grazing on macroinvertebrate diversity and water quality. Karen now works for Clemson Extension and Carolina Clear as the Water Resources Agent for Richland County.
---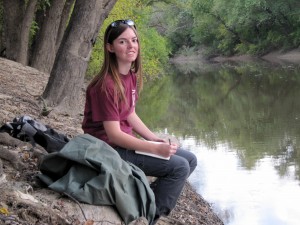 Jackie Adams
Jackie was the lab manager for the Whiles lab from 2010 to 2013. She helped keep things in the lab running smoothly and assisted with many of the research projects during her time with the lab.
---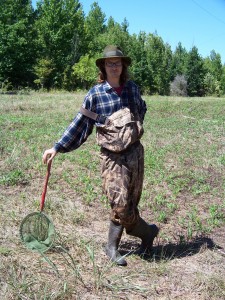 Eric Scholl
For his master's research, Eric quantified the influence of water velocity on snag dwelling macroinvertebrate structure and production in the context of a large-scale hydrologic restoration in the Cache River. He is currently pursuing his PhD with Wyatt Cross at Montana State University.
---

Kaleb Heinrich
Kaleb completed his Master's degree in Zoology in 2011. His project looked at the influence of the artificially constructed rock weirs on adult insect emergence and its influence on the riparian bird community. Kaleb's study showed the far reaching effects of restoration projects in the Cache River, demonstrating the link between in-stream restoration and riparian success. He completed his doctorate in Colden Baxter's lab at Idaho State University in 2015, and is currently an assistant professor at the University of Mary Hardin-Baylor.
---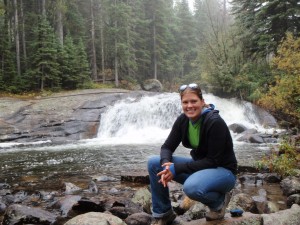 Jodi Vandermyde
Jodi received her B.S. degree in Zoology at Southern Illinois University Carbondale in spring 2008, and completed her M.S. degree in Zoology in fall 2012.  Her research involved examining macroinvertebrate secondary production, trophic structure, and energy flow before and after removal of riparian woody vegetation at Konza Prairie Biological Station in Kansas to assess effects of conservation and restoration on prairie stream structure and function. During her time as an undergrad, she had a research assistantship through Center for Fisheries, Aquaculture & Aquatic Sciences collecting data from Southern Illinois streams to analyze nitrogen isotope ratios in fish otoliths and muscle tissue.  She also had an internship at Cache River Wetlands Joint Venture Partnership assisting with several projects including alligator snapping turtle reintroduction.  She gained experience collecting data for various water quality programs such as intensive basin surveys and lake monitoring through an internship with Illinois Environmental Protection Agency Bureau of Water. Jodi is currently an Environmental Protection Specialist at the Illinois Environmental Protection Agency.
---

Therese Frauendorf
Therese received her Master's degree in Zoology in 2012. Her project examined the trophic basis of production in a Panamanian headwater stream in order to identify major sources of energy, measure energy flow through consumers, and characterize interactions among trophic levels and functional feeding groups. Therese is currently working on her PhD in Biology at the University of Victoria, British Columbia where she is studying the effects of climate change driven flow variability on stream ecosystems functions.
---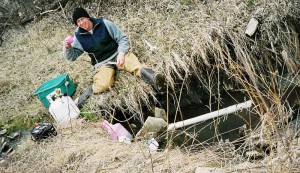 Scot Peterson
Scot was a longtime lab manager for the Whiles lab. He received his B.S. in Biology from SIU and helped with the majority of projects in the lab during his time here. Currently, Scot is completing a NSF Graduate Research Fellowship at Murray State University.
---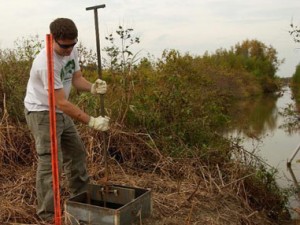 Dave Myers
Dave received his Master's degree in Zoology in 2010. He studied the application of naturally occurring oxygen and hydrogen stable isotopes as tools for tracing macroinvertebrate movement and dispersal in large river floodplains. He received his B.S. in Fisheries and Wildlife Management with a minor in Geographic Information Systems from Michigan State University in 2003. Between finishing his B.S. and starting at SIU, he worked for the U.S. Bureau of Land Management as a wildlife technician in Wyoming for two years. His interests include environmental policy, disturbance ecology, and restoration ecology.
---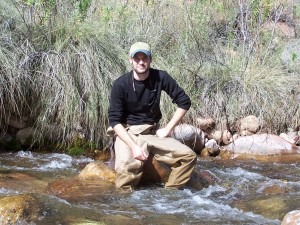 Dan Whiting
Dan received his Master's degree in Zoology in 2009. His research examined macroinvertebrate communities along a tallgrass prairie stream continuum using estimates of secondary production. Dan then worked as a technician at the University of Missouri, Columbia, conducting research in the Grand Canyon. There he worked with National Park Service biologists assessing translocation success of the endangered humpback chub, as well as studying food webs in tributaries of the Colorado River. Currently Dan is teaching biology at Central High School in Cape Girardeau, MO.
---

Checo Colón-Gaud
Checo finished his PhD in Zoology in 2008. His dissertation research focused on the ecosystem effects of tropical amphibian declines in mid- to high-elevation streams in Central and Western Panama. Checo completed an M.S. in Renewable Natural Resources at Louisiana State University in 2003 and a B.S. in Biological Science from the University of Texas, El Paso in 2000. After completing his PhD,  he was a NSF funded postdoc at the Luquillo LTER in northeastern PR. He is now an Associate Professor and Biology Graduate Program Director at Georgia Southern University. Checo is currently working on a crab manuscript.
Checo's Georgia Southern University Webpage
---

Catherine Chambers
Cat came to the Whiles Lab in 2005 after working with the USGS in Olympic National Park in Washington, where she was part of a team developing baseline stream community data prior to the removal of the Elwha Dam. Her master's research at SIU involved assessing the impacts of transgenic Bt corn on aquatic macroinvertebrates. After her degree she lived in northwest Iceland, working for Hólar University. She is interested in riparian dynamics, and especially loves leaf litter decomposition. She is also interested in water quality and quantity issues, conservation and educational outreach, as well as water law and policy. Cat started her PhD in the Summer of 2009 at the University of Alaska, Fairbanks working with the Marine Ecosystem Sustainability in the Arctic and Subarctic (MESAS) program.
---

Clint Meyer
Clint finished his PhD in Zoology in August 2007. His dissertation was entitled, "Ecosystem structure and function in restored and natural slough wetlands: valuation of restoration practices in the central Platte River Valley."  He then worked as a post-doctoral associate in Sara Baer's Ecosystem Ecology lab in the Department of Plant Biology at SIUC. He worked with Sara on an Andrew Mellon Foundation project investigating the potential role of soil texture on rates of ecosystem recovery (carbon and nitrogen pools and transformations) in restored Nebraska grasslands. In fall 2008, Clint began his current position as Assistant Professor of Biology and Environmental Science at Simpson College in Indianola, Iowa. His teaching and research program includes courses in field biology and ecology (Entomology, Plant Biology, Aquatic Ecology, and Ecological Field Methods). He also plans to utilize proximal restored and natural prairie and wetland ecosystems to further investigate factors that influence structural and functional recovery.
Clint's Simpson College Website
---

Denise Walther
Denise finished her PhD in Zoology in May 2007. Denise's dissertation research focused on quantifying macroinvertebrate responses to in-stream restoration of the Cache River in southern Illinois and developing pre-restoration macroinvertebrate production, organic matter, and physical habitat data sets for a headwater section of Big Creek, one of the river's major tributaries. Currently Denise is working with the US Fish and Wildlife in Fairbanks, Alaska as an invasive species biologist.
---

Tom Heatherly
Tom received his Master's degree in 2006 in Zoology. His research examined the relationships of stream macroinvertebrates,water chemistry, and habitat quality across Illinois. Tom is currently a PhD candidate at the University of Nebraska with Dr. Steve Thomas, studying the effects of geology and light on stream nutrient uptake and cycling and macroinvertebrate secondary production in tropical streams.
---

Mike Flinn
Mike finished his PhD in 2006 after he examined the influence of hydrology on biological communities of the Upper Mississippi River. Mike then worked in the Noatak Arctic Preserve in northwest Alaska with Breck Bowden (University of Vermont) until 2008. He is now just down the road at Murray State University where he was hired as an assistant professor in the Biological Sciences Department. He hopes to continue his work in the arctic as well as exploring the large river resources of the area.
---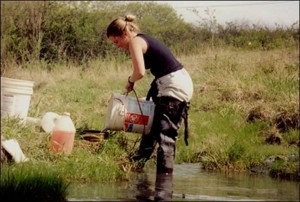 Mandy Stone
Mandy completed her Master's degree in 2003 with Dr. Whiles. Her research examined the influence of riparian vegetation on water quality, in-stream habitat, and biotic integrity in agriculturally impacted southern Illinois streams.